Track-By-Track Album Response: Some Still Morning by Handsome Ghost
Today I am a fervent sentimentalist who has been reading too much Hamlet and cannot stop thinking about ghosts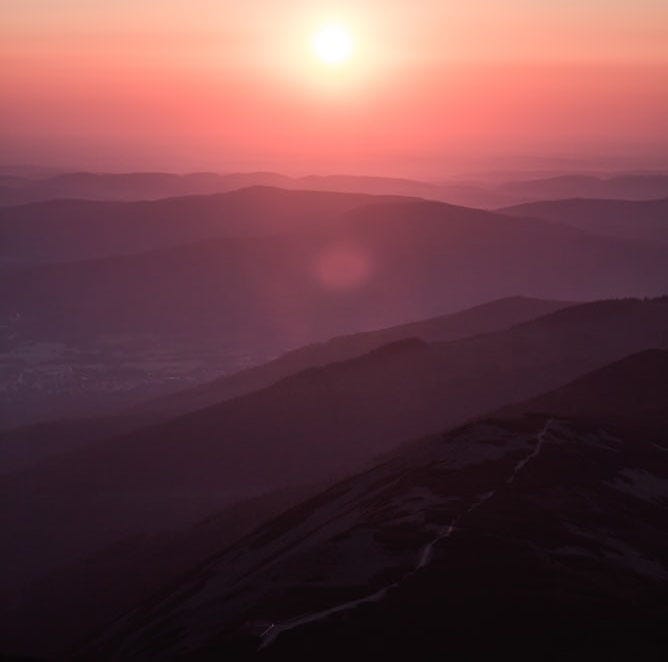 The acoustic duo Handsome Ghost released their second album Some Still Morning on September 18, 2020. I listened to it many times and felt a great deal of feelings. I thought about Walter Benjamin and also Kafka and a little bit about Escher. Here are some of those responses as little sketches on glass. 
Song Title: Funeral
Favorite Line: so it ends / oh but it was beautiful 
You open on the last day. You move through life like Benjamin's angel of history, back to the future, the past laid out in front of you in the softest colors. It's an idiotic way to do things--you have the bumps and bruises to prove this--but you can't quite bear to turn around. There are so many ghosts before you, choking the air.  We are all haunted, all the time. How to spare ourselves? We don't have the good sense to look away.  So you walk backwards, stumbling, singing your little song of grief. There is so much to grieve, you think, how ordinary loss becomes. The breaking of your heart is almost dull now, like a pearl slipping from oyster to get lost in the sand.
Song Title: Massachusetts
Favorite Line: could you give me just a minute, just a second more? / then I will be going if there's nothing to fight for.
You stand behind a house you do not recognize, folding your linen shirt as you pull it off the clothesline. You inhale the morning's first breath. Everything you know you have left to a city that tastes of smoke and salt. Now, there is only this crisp cloth in your hand; there is only the bruise of memory. You know better than to poke it, but you still dig your knuckle in. What good has knowledge ever done? You should sell it all, everything you know. Buy something nice with the money. An orange hat? A trick deck of cards? It doesn't matter. You dig your knuckle into the bruise and out comes the smell of that subway car, months ago, the hour nearing midnight. Out comes the bright of their eyes. The warm smell of cigarettes. You always wondered how bad it was for you, all that second-hand smoke. It hardly matters now. There is too much you have let go. How dare you want it still.
Song Title: Weeds
Favorite Line: find me in the wrong / find me in the right / find me in the calm in the middle of the night / find me still loving you / the best that I can
Love is no simple thing. You do your best with it. Elbows smeared with dirt, grass cut on your teeth. Not all that grows is pretty--no clean field of wildflowers or unbroken rolling green. Facing growth from underneath, you see only a mess of roots, their slimy tangled hands. It shocks you, the earth's underbelly. It's disgusting, honestly. The peeled skin of worms, the stink of rot. Manure mixed into the raised beds.  This is what it takes, you suppose, to press shoots up to sun. Constancy is such unglamorous work. Gross, without even the guarantee of satisfaction. You could spend months passing water from muck to root, only to find the growth a weed. To love unconditionally is no small demand. This, the field to which you tend, every inch of it is your beloved. The dirt will never leave your fingernails.
Song Title: Christmas in Jersey
Favorite Line: I could build a kingdom in the cracks / I thought about it / I want you back
You've done this before. It always works the same: you, so skilled at letting someone go without a fuss. The stupid smile on your stupid face as they walk away. No bad blood, no painful dance of faltered reignition, misaligned desires. Anyone forgiven, everyone spared. It's pathetic, your pathological need to be low-maintenance. You wonder sometimes if you live too much in the past to hold onto the present. What does abandonment matter when you live each day in the company of ghosts? You, constant king of whatever you're left with. How long can you keep this up? Each forfeiture whittles you smaller, and you can see the trail of your discarded bits. Desire comes with its own responsibilities. How small will you make yourself to avoid them?
Song Title: Fifteen Countries
Favorite Line: I wake up in the morning / there are strangers I have yet to become / & lie down in the evening / head spinning from what I've done 
The stretch of life left to you seems so impossibly long. You don't want to look at the past anymore. It bores you; it makes you sick. You turn forwards, but you don't want to look at the future either, so you walk by the road with your eyes closed. How else to spare yourself? You are an idiot, but this you knew before. Through your eyelids filters the pink light of morning, and you are lost, lost on this road, lost to the world, lost to yourself. All you know is the occasional buzz and hum of passing life, though you cannot tell what form of life it is. Car swerving around you. Gnat buzzing in your ear. It all seems the same. It is all noise, all the world noise, so little music to be found. Still. There is something in you that drags you through the day like a thread tied to your breastbone, tugged gently forward. Who knows where you are, but it is somewhere. Road forming under your feet.
Song Title: Vampires
Favorite Line: you've been pacing there for hours / we've been wasting everyday / wearing holes within the floorboards / what else can we say?
It is night now on your long road, and you're hungry. You turn to the moon and out come your teeth. There is much to be devoured. You sweep through every roadside inn, catastrophic in a way you never allow yourself during the day. Fangs sunk into meat, strawberries and cream, unpeeled oranges, as strangers stare and stare. It is what strangers do best. You pay them no mind. You are too busy for that, on a deadline as the clock clicks towards morning. You want to eat everything while you still can. How long before the sun rises and you must retreat to yourself, the smallness of your human body? In the light, you forbid yourself such obstinate wanting, so much indulgence. You, insatiable. Your desire is so dangerous when it's unleashed. Even now, raucous on a barstool, teeth buried in something sweet, desire punches a hole through your stomach, emptying it out again.
Song Title: Some Still Morning
Favorite Line: oh /  I remember now
Oh, it is all blown open. How gently it happens: this, the world shot through with light, every door pulled from its hinges. How gently you are turned back around, forced to face the past once more. With the soft touch of sunlight in winter, a knife slides between your ribs. What of it? You welcome revelation, even as it devastates you; you welcome this the liberation of your blood. The wind is in your hair like hands, making a riot of it, rattling your feeble body until it chimes like metal: it is a tenderness unlike any you have ever known. This is not death, after all. It is movement. The pearl shucked from oyster to be held in the palm.
Song Title: Nightmare
Favorite Line: I'm starting to care / we're only pins on the map / and you were never a nightmare / not when you're looking like that
There are some things you can only see by looking over your shoulder. Like the true beauty of those you love, who have so often made a mess of you. The music sounds like a ghost's final laugh. You, perched halfway between leaving and remaining. Your heart sits on the base of your tongue, heavy as lead, just as dangerous to swallow. The light on their jaw, the glinting of their teeth: it's awful, really. You are injured by such beauty. Injured by how you long for it. Sometimes the people you love are vicious dreams, and they possess you entirely, like light burning through a wire. How would you live without it? In all the world, there is nothing clean. 
Song Title: The Mint
Favorite Line: now, you're out in front of my house / honey, come inside / & you're laying out on my couch / drinking whiskey, lying 
It is not easy to be loved like this: only when convenient, in whatever sum can be spared. You, sitting always on your own gabled porch, waiting for whoever needs its shade today. September now; the heat of summer wanes to something tame. The neighbors pass you by with their leashed dogs and their children. Some turn to wave at you, and you smile, wave back. Always, you smile, even as the taste of it makes you sick; you sit, waiting, wrapped in your thin blanket on your mother's old rocking chair that you never could bear to give away. You can't keep doing this. Such constant longing is well and good in July, when sleep out here is still a pleasant affair, the greatest hazard your neck gone stiff. But fall drags over the city like a flannel sheet. A November night might just leave your body cold.
Song Title: Weeknight Crowd
Favorite Line: I saw you stunning by my midnight spot / your mouth still running, you were born to talk
The day has softened to evening's lilt. The sky, purple as a vein. You walk the city's streets, and the people stand lined up outside the buildings, waiting for the night to begin. You don't know which way to turn. Whether to leave or to stay. How irritating this is. You think you've made your choices, moved on, the table set for the next thing. But nothing is ever over; no decisions final except those concerning breath, who still has it and who does not. You walk out the front door only to find yourself in the kitchen. Space and time can't accommodate this peculiar architecture: Escherian, impossible. Impossible, except here you are, climbing the stairs only to end up at the bottom again. The journey from past to future is no clean line. It loops like stitching. Nothing ever really leaves you; the ghosts don't  stand in front of you, fixed, further away with every step you take into the future. It is nothing so merciful as that. Instead, they crowd your chest. They live in your heart, so loud you're sure these strangers can hear it, even over their own conversation as they wait for the doors to open and the music can begin.
Song Title: Sunday Best
Favorite Line: I am gonna try / I am gonna try / I am gonna try / now, I am gonna try
You end where you began. A funeral, again. Something always ending, no matter what you do. No matter which way you face, you are haunted. Afterwards, at the bar, you remember that it was Kafka who said that one cannot spare oneself. This apparent sparing of yourself has brought you today to the verge of your destruction. You want to break Kafka's stupid nose. What the fuck did he know? What else are you meant to do but try to spare yourself? How are you meant to live with everything you must live with? Right now, it seems an impossible task. You think that there isn't enough space in your heart for everyone who demands a place. You are an idiot. Your heart, which is bigger than any nation, can grow to make room for the ghosts.